How Recent Advancements in Digital Marketing have Impacted the Business Environment
By Lynna Barrett, Chief Digital Officer, National Tiles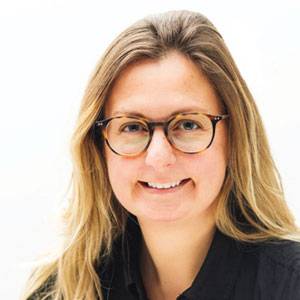 Lynna Barrett, Chief Digital Officer, National Tiles
Revisiting 5 digital foundations – get the basics right and you will be able to leverage advances in digital marketing technology.
1) Digitisation of Product
Online is no longer an afterthought in the product lifecycle. Consumers are interacting with search engines, social media and your website before, during and after purchase to understand everything in an instant about the product catalogue. Product data forms the backbone of all digital marketing. One of the biggest transformations has been how traditional brick and mortar businesses have had to get product content 100 percent delivered to online on time and with images so good you don't need descriptions, descriptions so good you don't need images. This means having a continuous focus on product audit issues fixed and go forward integration of product information to drive efficiencies. It means having an online sample and photography workflow, productivity and quality of content measures in place, engaging buyers to write and assign attributes to products upstream to drive merchandising logic through to online. KPI and transparency reporting needs to be built into systems for real time measuring the loss of sales for any product that is not online to standard by reason. Business's who have mastered their standard product catalogue online can now look to leveraging their workflows and efficiencies to enhance their imagery, videos and descriptions as well as expand their range to have online exclusive product, real time stock available for click and collect/fulfil from store, use their product feed to enable Google shopping and marketplace sales and expanded categories and services generating new revenue streams – all thus increasing the ROI for digital marketing.
2) Service is just as important as price and range
Orders need to be received by customers in full, undamaged within promised delivery time frames. Online shopping has had big impact on traditional brick and mortar retailers starting to grow online from infancy having never managed individual customer orders and is increasingly a battleground for digital marketing and driving online sales acquisition. Customers expect easy to understand FAQ's, multiple delivery options, tracking and updates and expanded customer service operating hours, and then further advancing speed of service through chat bot technology. Customer reviews and product ratings are now used to publish to the website and used in digital marketing across email, social media and google shopping to differentiate and the penalty for a bad review has forced businesses to take a customer experiences first approach to their policies and fix root cause customer issues.
3) Personalisation
From recommendations for all to recommendations per customer. Personalized multi-channel digital marketing programs that use artificial intelligence and machine learning are driving customer acquisition. The advancements in digital marketing technology have taken away all the dirty work out of digital marketing allowing for more time spent on strategy and optimizing ROI. Unified customer profiles and well mapped out ecosystems where every customer is profiled with a pure omni-channel mindset has eradicated the need for manual work.
This means businesses now can have a continuous focus on customer behavior and enabling messaging and engagement to drive higher conversion, average order value and more frequent purchases, turning leads into sales and retaining customers over time. In the chart below you can compare now and then.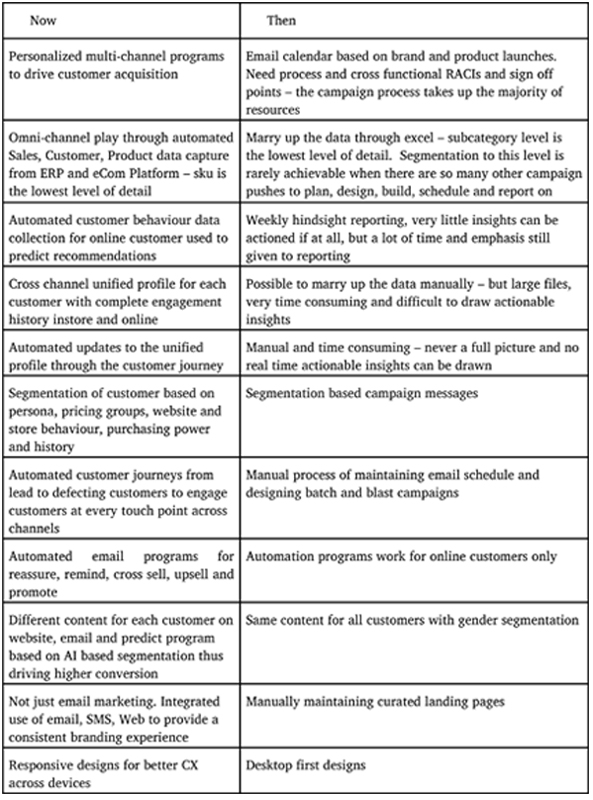 4) Data Measured for Driving Business Decisions
Digital marketing offers a wide variety of traceable insights and competitive benchmarking that provide regular learnings and insights to share with all stakeholders to build customer relationships that are more meaningful, personal, and productive. Advances in digital technology means there has been an evolution in analytics from KPI metrics, dashboards and what happened in the past to what could happen in the future and what should we do? To harness predictive analytics, big data and prescriptive analytics, data quality, insights and information sharing need to be a pillar of your company's operating model. Measurements of success include sales growth to targets, cost control and ROI, delivery on milestones and project dates, team engagement and feedback and net promoter score and customer satisfaction.
Traditional structures and roles need to transform to deliver on financial as well as new consumer centric measures that meet customer objectives such as speed, quality and customer satisfaction
5) Agile Ways of Working
In order to harness the power of digital technology, in-house strategy, thinking, technical delivery management and expertise are needed and will allow all functions to collaborate and capture disproportionate benefits and continuous improvement on efficiencies. Business's that are shifting to new organization structures as they start to employ more digital technology will dramatically elevate their company's bench strength in delivering exceptional, data informed and seamless customer experiences.
It needs to turn its people into thinkers and to empower them to work where, when and how they choose. It requires AGILE ways of working, using incremental, iterative work sequences to continuously improve and react to unpredictable changes in the business environment and consumer landscape. This means teams can be highly efficient and use best in class communication and ways of working as well as foster a culture of continuous performance improvement of the team with story point tracking and backlog monitoring. It also needs support, alignment and passion from executive leadership to drive results.
Traditional structures and roles need to transform to deliver on financial as well as new consumer centric measures that meet customer objectives such as speed, quality and customer satisfaction. All customer feedback is reviewed and used to improve services continuously as a priority throughout the organization to unlock sales growth. Policies need to be rewritten to serve the customer needs over traditional business needs or legacy constraints in systems or thinking. Service level agreements need to be clearly understood internally with a stop light approach built directly into the ERP and POS systems to always measure and improve – forcing transparency and efficiencies for a business and adding tremendous value to customers.
Businesses wanting to leverage the latest advances in digital technology need a clearly defined roadmap and devise an ongoing capability plan. Everyone in the organization should know and be delivering upon the transformation from the "as is" to the future state architecture and each person has a role to play and a unique contribution to give.