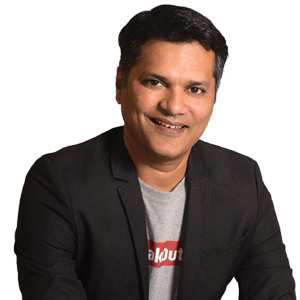 Narayan Murthy Ivaturi, Global Chief Operating Officer
FreakOut, a global marketing technology company in the last 10 years has forged its name across the digital marketing space with its innovative mobile native and video ad platform, and programmatic solutions including demand-side platform (DSP) in Japan and supply-side platform (SSP) globally that deliver in-feed display and video formats across 3000 premium publishers. Each of their 21 offices across 19 countries is committed to servicing the digital marketing needs of both advertisers and publishers based on the company's unique and edgy value "Dance First. Play Different".
The genesis of FreakOut traces back to the days when there were a handful of adtech players and limited technologies across Japan. The need for a custom-made advertising technology that would help international advertisers to demystify the Japanese characters-driven marketplace inspired the founder and CEO of FreakOut, Yuzuru Honda, to develop a small but efficient adtech company, which was soon acquired by Yahoo Japan. Soon after, Honda went on to establish his own adtech marketing company—FreakOut.
Fast forward 9 years, FreakOut has established itself as a renowned, global SSP partner to brand marketers and advertisers with its programmatic native and video capabilities. FreakOut also helps premium local publishers to monetise their mobile inventory with its non-intrusive and engaging ad formats. According to Narayan Murthy Ivaturi, Global Chief Operating Officer, FreakOut Adtech Business, "CIOs face a number of challenges in the digital marketing industry, among which one of the most important ones is the complexity of the ecosystem itself."
Our native ad format not only presents a unique experience, it also makes it hard for adblockers to block the ads
To help advertisers and publishers overcome the complexities and choices of the digital marketing ecosystem, FreakOut has kept its solutions simple, distinct and to the point. "We handhold our clients and publishers to make sure they understand the gist of programmatic and optimize the use of technology in order to solve their digital marketing needs," says Ivaturi.
Another major challenge is the extreme westernization of most technologies as they are primarily developed for U.S. and UK markets. To address this issue, FreakOut has extended its footprint with offices across every media market in APAC, from South Korea, Taiwan, Hong Kong, to all of Southeast Asia, India, China, Japan, Australia, and New Zealand. The perk of being a native language speaking company in that geography augments even more value to FreakOut's offering because there is a relatability to their conversations and solutions that they bring to the table.
Amid fierce competition with several adtech companies being prevalent in the market, FreakOut, a pioneer of ad technology offering, aspires to bring in a unique experience for advertisers and publishers who are riddled with multiple challenges such as adblockers and poorly designed ads.
"By building a native ad platform, we were able to establish our firm presence in the global markets outside of Japan. Our native ad format not only presents a unique experience, it also makes it hard for adblockers to block the ads," remarks Ivaturi. Moreover, the company chose highly engaging formats that were non-intrusive to the user, solving the usability challenge, and also helping advertisers achieve higher performance. Additionally, their ad optimization and focused demand mapping to different audiences ensure maximum revenue for publishers.
As a technology-first company, FreakOut offers simple plug and play functions to make implementation easier for clients. After the publisher implements the ad solution, the ads can be up and running within minutes. FreakOut has two formats—an in-feed article and a video format—that the publisher can choose from, considering the website and user experience.
With technology evolving by leaps and bounds, FreakOut has begun to completely transform the transactional aspect of its business. The company is moving towards a 100 percent programmatic framework, allowing advertisers and publishers to increase efficiencies and add multiple data layers on top.