iClick Interactive [NASDAQ: ICLK]: Driving Marketing Intelligence with Data-Driven Insights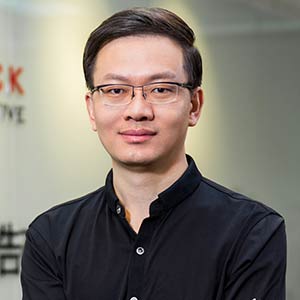 Jian Tang, Chief Executive Officer
QiaQia Food, based in Anhui, China, is the country's largest producer of roasted seeds and nuts, as well as the first snack producer being listed on a major Chinese stock market. Delivering on the company's industry-leading production capabilities and its commitment to offering innovative, quality products, QiaQia Food has continued to thrive in the lucrative Chinese snack market. Yet ever-changing consumer behavior and the highly competitive market landscape present new challenges for the brand when it comes to staying relevant and engaging customers, especially those from younger generations.
To this end, QiaQia Food collaborated with the leading independent online marketing and data technology company—iClick Interactive (NASDAQ: ICLK)—that helped the QiaQia Food link its outbound and inbound marketing efforts via the WeChat mini-program. Using iClick's integrated Enterprise and Marketing Cloud Platform, which provides full-stack marketing and consumer lifecycle solutions, QiaQia Food had seen 180 percent growth in monthly GMV and average growth of 30 percent in the number of monthly paying users of its official WeChat mini-program for twelve months that ended in May 2020. Such growth is particularly impressive at a time when the global retail sector is reeling from the economic downturn induced by the COVID-19 pandemic.
In addition to its collaborations with companies such as QiaQia Food, there are several other success stories that stand as a testament to iClick's unparalleled insights into the digital marketing landscape. Headquartered in Hong Kong, the company began its journey in programmatic marketing in 2009 and has grown from a startup to a NASDAQ-listed company, making it one of the best-capitalized marketing technology providers in China. "We use various technologies, such as machine learning, predictive analytics, and real-time matching technologies, to perform multi-dimensional data drill-downs and dynamic correlation analysis," says Jian Tang, chief executive officer of iClick Interactive.
As a veteran of the industry, Tang demystifies some of the existing challenges that the digital marketing space has been facing recently. According to him, the marketing landscape is extremely fragmented, with lots of marketers struggling to utilize a trove of raw and disparate data and turn it into meaningful insights. Low adoption of automation solutions and convoluted data silos are major factors in the diminished ROI of many digital marketing initiatives. For many brands, how to effectively convert expensive traffic from various channels into leads and revenue is also high on the agenda.
We use various technologies, such as deep learning, machine learning, predictive analytics, and real-time matching technologies, to perform multi-dimensional data drill-downs and dynamic correlation analysis
"A direct and customized approach is imperative for brands to collect data and generate insights that create more targeted strategies. Brands now need more effective methods to engage with potential prospects and existing customers. By doing so, they can also generate more business opportunities by enhancing customers' loyalty and having them make repeated purchases through a holistic marketing funnel that collates marketing and sales data," says Tang.
iClick helps such marketers by undertaking a programmatic cross-channel advertising approach through its unified data platform. Imbued with omnichannel capabilities, the platform collects data from first-party digital advertising campaigns, search engines, content sites, mobile apps, social media, and other sources. This data includes the user's online interactions, interests, offline purchase behavior, social media behavior and demographics, as well as campaign performance data. Currently, iClick possesses data profiles for over 98 percent of the internet users in China. There are more than 930 million anonymously-profiled Chinese users on the iClick platform, and the company's data analysis capabilities allow for the simultaneous processing of 100,000 transactions per second and the collection of 0.9TB of data every day. iClick also possesses data sources that cover around 125,000 mobile apps and 2.3 million websites globally.
With such extensive data sources, iClick's audience identification and data management platform, iAudience, helps businesses attain an in-depth understanding of their customer needs and demands. Moreover, the company's one-stop targeting solution, iAccess, allows clients to customize their advertisements and direct the target audience to the product page through cross-channel advertisements. Its integrated Marketing Solution empowers brands to acquire new consumers both efficiently and effectively. Leveraging these capabilities, iClick is continually looking for ways to bring digital marketing to the next level by delivering even greater value to its clients. In 2019, iClick launched its Enterprise Solution that enables data integration from online and offline sources, creating more extensive and detailed consumer profiling. Combined with iClick's Marketing Solutions and Consumer Data Platform, the company's Enterprise and Marketing Cloud Platform allows brands to acquire more refined customer insights and achieve higher ROI through closed-loop data analytics.
At this juncture, what makes iClick a cut above others in the market is the fact that, since its inception, it has become one of the leading companies to master programmatic marketing strategies in Hong Kong and mainland China. Not only has this given it a first-mover advantage, but it has also allowed iClick to develop the most prominent and independent online marketing technology platform in China today. Additionally, the company has formed strong partnerships with top internet companies such as Tencent and Baidu, as well as with the country's most popular social media platforms such as Xiaohongshu (RED). Such collaborations have enabled iClick to enhance its marketing networks in China's highly fragmented market.
The COVID-19 crisis has set in motion some of the most unexpected disruptions for various industries in decades, presenting the ultimate test of resilience for companies worldwide. "While adverse market conditions and the global economic slowdown have affected the overall sentiment and advertising budgets of customers, many brands are seeking to enhance the cost-effectiveness of their marketing tactics via online and offline consumer behavioral data integration and analysis," remarks Tang. As iClick snowballs ahead with the goal of becoming the leading fully-integrated Enterprise and Marketing Cloud Platform in China, the company is well positioned to maintain strong business-model resilience and enjoy the favorable growth prospects of the online-to-offline market in the region.