Game & Growth Marketing Genie: New-Age Interactive, Gamified Marketing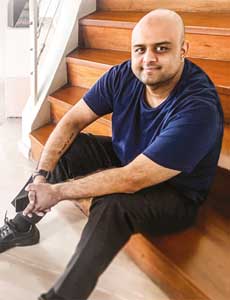 Hersh Bhatt, Co-Founder and CEO
Grand Theft Auto, Call of Duty, Fortnite, and Candy Crush! These are just some of the best-selling video games that have attained massive commercial success. Is it the interactive user experience, the impressive plot, or the attractive game design?
These are key elements, but a big contributor to their success was the effective marketing that can be applied to any industry.
Companies are struggling when it comes to connecting with millennials in today's hyper-connected and brand-promiscuous landscape covered with ad-blockers. With so many options on the market and stiff competition, the industry has been forced to connect with audiences in completely new ways. Brand identity and unique customer experience that connects with the right audience is no small feat!
This brings us to the question: how can any company leverage the same tactics to find profitable growth in today's world by learning from the most uber-competitive industry?
Hersh Bhatt, CEO of the APAC-headquartered full-service interactive digital solutions provider, Game Marketing Genie, says, "The key to effectively marketing a brand lies in understanding the target audience and brand experience and personality that speaks to them." Brands need to understand the dynamics of how games are marketed and apply the same principles.
This is precisely where the consumer marketing industry has been experiencing a challenge that many marketers have failed to crack. But now, Game Marketing Genie, or Growth Marketing Genie, is changing this and bringing the same solutions to other industries with its full-service marketing, creative, branding, and commercial strategies that enable businesses to improve awareness, activation, retention, and monetization. "We play the role of both a marketing consultant and an overall business growth consultant," adds Bhatt. The firm helps companies implement a dynamic digital marketing strategy that increases their ROI and adds value to customers by creating experiences and content that captivates the audience and brings brand awareness.
Modernizing Marketing
Game Marketing Genie doesn't take a one-size-fits-all approach that could leave businesses lost in a sea of competition, reducing the probability of rising above the rest. Rather, Game Marketing Genie invents strategies that align with the company and its relationship with its users and customers. The factors that the company's marketing experts take into consideration before formulating a solution include the target audience, the platforms, the online markets where the product or service will be sold, budget, and lastly, the results of data science analysis.
Through its services, Game Marketing Genie is addressing some of the most prominent challenges of marketing: the lack of differentiation between lifetime value, brand value, and the value of customer data; satisfying the gaming niche is so complex that the company rapidly started generating results for other consumer-facing businesses.
Our targeting is so potent we can find personas with 5 to 50 layered attributes; we call it micro-segmented hyper-targeting
As a passionate solution creator and a proven marketer, Bhatt explains, "When it comes to marketing, most companies emphasize growing their brand name and getting their message out. What they miss out on is perfecting their products and services according to the market demands." To that end, Game Marketing Genieacts as a Chief Growth Officer, aligning the responsibilities of the product team, sales team, and marketing team under onerole and acquires profitable customers. "While devising the strategy, we start with the product, identify ways to optimize the lifetime value of customers, and then work backwards to elevate a business' brand value," mentions Bhatt.
Changing the B2C Marketing Industry
Earlier, reaching audiences meant marketers had to create an exciting video. But with the gaming, social media and mobile landscape becoming more complex as more competition rolls in, it is not enough. As a result, big brands are now re-working their strategies, such as influencer marketing, product placement, and native advertising to fit the constantly disrupted space. Against this backdrop, as a results-driven analytical solution creator, Game Marketing Genie offers brands services that cover everything from social media marketing, search advertising, influencer marketing, app store optimization, mobile marketing, email marketing, and search optimization. Talking indepth about the benefits, Bhatt explains, "When we established the company in 2018, gaming applications were booming." Influencers had massive public reach and engaged audiences, and thus, were the ideal target for all companies. Many global brands started collaborating with influencers, but not everyone was doing it right. To help such businesses, Game Marketing Genie began delivering influencer marketing services. The firm's experts come up with influencer marketing campaigns that best fit the client's needs and deliver impressive results, including improved online visibility, greater exposure to a specific demographic, and increased conversions. With a database of over 10 million influencers, across all platforms, Game Marketing Genie has utilized machine learning to curate best fit influencers and they manage the relationship too. The firm provides the ability for companies to reach a wider audience and foster greater trust in people. Staggeringly, their in-house AI database has ingested influencers that have thus far gathered and analyzed 10 trillion video content views.
Learning from Gaming to Create Customer Experiences
Another major service offered by Game Marketing Genie is content marketing campaigns. The firm's marketing and advertising experts develop infographics, web pages, and videos with all of the content focused on a singular goal: getting the brand message in front of the right set of eyes. Game Marketing Genie also has a team of social media professionals that aid marketers in creating content, reaching their target audience, and optimizing the ads. "Measurement is key to everything we do in advertising. Our targeting is so potent we can find personas with 5 to 50 layered attributes, we call it micro-segmented hyper-targeting," adds Bhatt. Mining the data leads a business to better understand their product and audience, helping them analyze what is working. Game Marketing Genie is dedicated to taking away any uncertainties that businesses may have with forming a marketing strategy.
They know how daunting the task can be, and hence, Game Marketing Genie's team of specialists has been assembled from the best the industry has to offer, and their ability, according to Bhatt, is "second to none." What sets the firm apart is their focus on customer experience, gamification, and data science, which enables them to provide a balance to all the stakeholders involved. Another factor that keeps Game Marketing Genie ahead is the company's investment in hiring top talent. The firm selects forward-thinking individuals with excellent skills who merge well with the team and clients. Digital marketing is a broader field, a key aspect that needs to be molded into everything a business does.

"We have invented a novel way for businesses to reach an increasingly ad blocking market and the world in real-time"

Game Marketing Genie has helped numerous companies drive better ROI. In an impressive feat, the company helped one of its enterprise-level South Korean clients to rank number one across their app store categories globally. Game Marketing Genie crafted an influencer marketing solution that utilized their AI capabilities to analyze a total of 10 million influencers with a total of over 30 billion followers and 10 trillion content views. To that end, from its database of over 10 million influencers, Game Marketing Genie selected 1,000 influencers that fit the client's criteria perfectly. In a week, the client's app had surpassed one million downloads worldwide.

Creating the Future of Digital Experience

It is not just Game Marketing Genie's ability to deliver superior marketing services that has helped the company attain success in a short time. What's more, through gamification, the firm helps improve engagement for any company rapidly.

Democratizing Influencer Marketing

Game Marketing Genie's "innovation lab" is currently preparing to launch a new-to-world product named atisfy, focused on influencer marketing. "We have invented a novel way for businesses to reach an increasingly ad blocking market and the world in real-time," exclaims Bhatt.The real-time and AI-powered system will utilize its algorithm, atisfy react to enable businesses to buy influencer campaigns at a larger scale than is possible today with a self-serve platform named atisfy reach and will enable even nano-influencers, to focus on creating content that matches their audience and earn money by receiving paid jobs in real-time through an app called atisfyre.

For the year ahead, Game Marketing Genie is looking forward to launching thisnew product and getting it into the hands of influencers and businesses. "We will have influencers and businesses try it out, tweakthe algorithm based on its performance, and then accordingly scale it globally," expresses Bhatt. The new solution will take intuitive marketingforwardand place the power of decision-making in the hands of influencers and businesses rather than middlemen like contract managers and talent management agencies. The organization will continue to grow as a one-stop-shop for digital marketing. Recently, Game Marketing Genie also became a TikTok affiliate agency, and the team is looking forward to enabling more large enterprises, as well as smaller businesses, to run campaigns and guide them from pre-alpha testing to launch and beyond. On the anvil are also plans to expand to a few places in Europe and the US. "If you are looking for a partner to nail the perfect launch, elevate your brand, increase acquisition, and monetize your audience better, we've got your back," wraps up Bhatt.