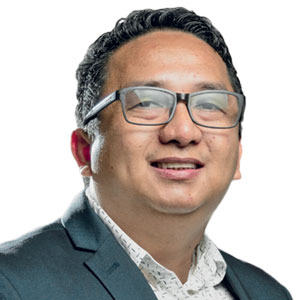 Ruben Licera, CEO
"We create personalized digital marketing strategies catering to the immediate and long term lead and sales generation needs of Entrepreneurs and Business Owners. For us that is the ultimate goal." - RUBEN LICERA
ESTRAT 360 Digital Marketing Company founded in Cebu, is now touted as one of the Philippines' fastestgrowing Integrated Communications and Digital agencies. It's global portfolio includes international and publicly traded companies handling brands like Subway, Cemex, Tsuneishi Shipbuilding and Ginebra San Miguel. More than the company's international award-winning campaigns are its outstanding company outputs: 58,000 marketing campaigns, served around 300 businesses of 28 nationalities, primarily based in the U.S., Australia, the UK and Asia Pacific, in general.
"What makes ESTRAT 360 stand out?", asks our editorial team to ESTRAT 360's Chief Executive Officer (CEO) Ruben Licera. Mr. Licera quickly quips, "Customized and personalized service."
Since its founding in 2014, ESTRAT 360 Marketing Company (ESTRAT360.com) has forged its name across the local and international digital marketing space with its innovative and customer centric strategies to help brands transcend to the international scene via digital and offline platforms.
"No two company is the same," adds Licera. "Working with startups for more than 7 years has made us realize that there are only two things that can make business owners and startup founders happy. One, you generate qualified leads for their business; and second, help them create and execute a strategy to start generating sales and optimize conversions," adds Mr. Licera.
This is the same formula that ESTRAT 360 has used to help other businesses grow by 7 to 8 figures. Delivering this output to brands requires close coordination with the internal team as this result is the fruit of data-driven and constantly reiterated campaigns to maximize sales conversion.
ESTRAT 360 Beginnings
It was in 2010 when Ruben Licera first launched his Search Engine Optimization (SEO) agency with PhP 500.00 and a borrowed PC from his brother. As an SEO expert, he has always generated digital marketing audits to analyze his client's concerns and issues by digging into the data that is available online. He uses it to formulate a solid audit report which contains the action plans on how to address the problems correctly. However, the agency failed as most of the challenges faced by his clients would be due to the lack of manpower and set of skills needed to act on the plans. Clients would often ask Licera if he knows someone who could handle these projects. To remedy this, in 2014, he decided to hire full-time digital marketing professionals of different expertise to help strategize and execute digital marketing campaigns. This marked the birth of ESTRAT 360 Marketing Company (ESTRAT360.com).
Legally Registered in 2017, ESTRAT 360 Marketing Company has always been a 100 percent Filipino-owned company based in Cebu, Philippines, serving the world. Since its inception, the company has committed itself as an avenue for young individuals with different skill sets in integrated communications and digital marketing to help businesses grow, putting the target customer at the center of each of the campaigns. Currently, ESTRAT continues to grow as a reliable digital marketing partner to some successful startups based in the U.S., the UK, and Australia. It continues to commit itself to empower brands and businesses to get unlimited traffic, leads, and sales, where its teams--the core of the company--work closely with its clients to deliver and implement strategies tailored to the needs of their clients' current status.
Over the years, ESTRAT 360 Marketing Company has proven solid capabilities to successfully generate qualified traffic, leads, and sales to its clients. ESTRAT 360, under Ruben Licera's leadership, has come to understand that the success of any marketing campaign is always measured by the quality of response of its target customers in the form of traffic, leads, and sales.
Success in your digital marketing campaigns is not an all-win streak. It is the product of our years of continuous learning with the help of our clients, and banking on the previous campaigns' wisdom
This is also due to the fact that businesses thrive by creating profit and upping revenue.
The strength of ESTRAT is really about helping small businesses and startups launch their business and reaching their marketing goals. "We do this quickly and efficiently by adding in experienced digital marketing teams to do their campaigns after understanding the company's goals and objectives according to their specified timelines," shares Licera.
Digital Marketing Success Secrets for Startups
When asked what are ESTRAT 360's secrets to successful digital marketing campaigns, CEO Licera shares the 5 things that startups and businesses should find.
(1) Find a Product that Solves Something and/or Your Target Customer is willing to pay for it.
Most projects and products startups pushed to the market are borne out of passion. The successful products/services we have pushed to the market are those that solve an existing problem with the target customers having the capacity to pay for such product/ service. ESTRAT 360 has been approached more than a thousand times by inventors, entrepreneurs and business owners with products that do not solve anything or do not stand out in the market. ESTRAT 360 always checks each of its client's products viability with a thorough product review audit.
(2) Finding and Targeting the Right Customer.
Most often, marketing professionals are lost in the hullabaloo of marketing, forgetting that the primary objective is finding the right customer for your product. To elaborate, let us take the example of a B2B business client. ESTRAT 360 started working with the client as they had difficulty in finding customers and the right platforms to target these product buyers. Through its audits, ESTRAT 360 realized that they needed to find C-level officers who can make the decision on which end-to-end business improvement software to use for their business. "Once we were able to know who we wanted to contact, selecting the right platforms to target was easy. And since one of our client's goals was to gain quality traffic in the long-term, we implemented hybrid paid ads campaigns in Google, Facebook, and LinkedIn. We've also funneled our audience and encouraged them to sign up to our email list," Licera comments. Email Marketing allowed ESTRAT to generate more leads to look for more similar personas to refine its paid ads targeting. For the long-term, ESTRAT built content catering specifically to the preference of the C-level decision makers. ESTRAT 360 has generated a 1500 percent increase in qualified B2B leads in the first year of engagement impacting positive sales and bottomline for the whole business.
(3) Find Content that Connects Targets and Amplifies Distribution.
One of ESTRAT 360's laurels in its cap is how it had delivered a backyard business into international fame. Rico's Lechon's story is similar to most startup businesses. They work on a limited marketing budget at a very tight schedule. ESTRAT 360 opted to bolster the brand's strength and emphasize it to its target customers, while digitizing the content with the goal of increasing engagement from the customers. Strengthening its benefits and solidifying its "topof- mind" recall led the local brand to dominate the culturallydiverse Metro Manila, achieving the goal of creating seven stores in a year and finally receiving five international awards in Vienna, Austria. "Stories connect the customer to the brand," quips Coach Licera.
(4) Find Relevant Data, Insights and Analytics to Measure.
Coach Ruben warns "Not all data and insights should be measured, but the relevant ones are essential." Most unsuccessful campaigns have no metrics or measurements, making it impossible to see performance of the campaign. For one client who had employed more than 40 freelancers for a time, ESTRAT 360 has optimized the operation by studying the coverage of the work and its time and motion. After a few weeks of reviewing operations and process, ESTRAT 360 suggested restructuring, making it possible for the 70+ clients to be managed by ESTRAT's 8-man team. This has allowed the client to save 65 percent of total service cost.
(5) Find a Plug and Play Team with a Track Record to Work with You on Your Campaigns.
"You can never be an expert on everything" exclaims Licera. More than hiring another set of freelancers to manage your digital campaigns, it is important that the team you will be hiring has an intensive knowledge of working with your business niche. As much as the same strategies apply to most of the campaign, vertical expertise is essential in achieving results for a shorter period of time. For example, ESTRAT 360's niche expertise is into Restaurant and Hospitality, Dental Services and B2B marketing. ESTRAT 360 is successful in helping small businesses and startups launch their products and services and reaching their marketing goals. ESTRAT 360 is quickly and efficiently able to do this by adding in experienced digital marketing teams on the specified niche to conceptualize, execute, and manage campaigns.
ESTRAT 360 continues to reap international recognition for its campaigns. Aside from winning "Startup of The Year" and "Communications Professional of the Year" in the 2019 International Business Awards in Vienna, Austria, the agency was recognized as one of the recipients of the Brand Leadership Awards as recognized by World Marketing Congress this year. CEO Ruben Licera was also recognized as "Digital Marketer of the Year" of the prestigious Asian Leadership Awards, for his contributions in the field of digital marketing in the Philippines.
"Success in your digital marketing campaigns is not an all-win streak. It is the product of our years of continuous learning with the help of our clients, and banking on the previous campaigns' wisdom," says Ruben.
"If our Asia Pacific clients prefer us over other agencies, it is because we continue to grow by learning with them," closes CEO Ruben Licera.